Tribaret Certification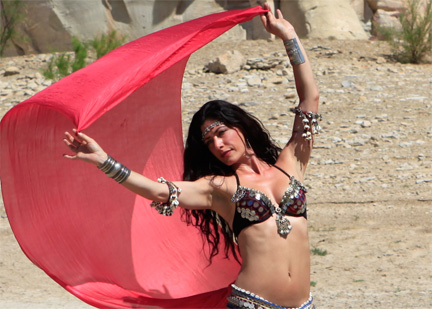 As created by Carrie Konyha, "Tribaret"  Bellydance describes the blending of  Tribal + Cabaret bellydance styles to create a timelessly alluring, neo- fusion style of bellydance. Tribaret Bellydance is a delightfully versatile & sophisticated bellydance style that blends the earthy, soulful vibe of  Folkloric inspired Tribal bellydance with the Glamour of Cabaret bellydance. The Blending of the dance & costuming aesthetics of both styles provides a multitude of artistic  possibilities perfectly suited for the leading edge and aspiring visionary bellydance artists of todays theatrical bellydance scene.
Carries "Tribaret Bellydance" instructional DVD is the first of its kind to be produced and is getting rave reviews internationally as it sweeps the globe with Carries Avant-garde conceptual frameworks for Tribaret bellydance stylings & dynamic dance making theories.
With the onset of increased interest in Tribaret bellydance, Carrie is now offering multi-level certification training intensives. The training levels range from beginners, intermediate, advanced & teacher training. Levels 1 thru 3 are weekend intensives that include  a total of 14 hrs of training and the teacher training is a 5-day intensive. 3-day Multi-level intensives with  level 1 testing option is also available and is a great way for those new to Tribaret to get acquainted with Carries Tribaret format.
Level testing option is provided at the end of each intensive for those who wish to become certified in Carries Tribaret techniques. Certification is required for those who desire to become certified Tribaret instructors.
Interested in hosting a Tribaret weekend intensive in your community? Contact Carrie. See schedule page for currently scheduled intensives. See below for level breakdown.
Multi-Level 3-day Tribaret intensive (open to all levels)
Drill fundamental technique
Drill earthy folkloric steps & styling
Drill lavishly smooth & fluid oriental moves & style
Fundamental rhythm identification
Drill rhythmic timing in dance & zills
Intermediate & advanced layering drills
Level 2 & level 3 Tribaret dance combos
Refine solo & group improvisational skills
Musicality & dynamic staging
optional level 1 certification (extra fee)
Tribaret Level 1 certification (beginning skill level)
Drill  fundamental Tribaret technique
strengthen dynamic alignment
Drill rhythmic timing in dance & zills
Cultivate fluidity in oriental dance styling
Enhance skills in performing clean, clear transitions
Develop solid, earthy, folkoric inspired presence
Fundamental rhythm identification
Drill rhythmic timing in movement & on zills
Discover Tribaret aesthetic principles (costume & dance)
Gain confidence in leading & following roles in group dancing
Practice level 1 solo improvisation skills
Optional Level testing/certification
Tribaret Level 2 certification (intermediate skill level)
Refine Dynamic alignment
Level 2 technique drills w/ layering
Learn level 2 Tribaret Combos
Explore dynamic dance making theories
Delve more deeply into Tribaret aesthetic principles (costuming & dance)
Level 2 Rhythm identification (dance & play zills to various drum rhythms)
Practice synchronized group improvisation formations
Learn & practice level 2 solo improvisation exercises
Refine rhythmic timing in dancing & zill playing
Optional level testing/certification
Tribaret Level 3 certification (advanced skill level)
Level 3 technique drills w/ multiple layers
Level 3Tribaret combos
Master rhythmic timing in layered dance movements
Master rhythmic zill playing
Advanced solo & group improvisation skill development
Understanding musicality & instrumentational nuances
Hone Dynamic Dance skills
Stage crafting theory
Optional level testing /certification
Tribaret Teacher Training
Multi –level technique drills
Tribaret dance vocabulary development
Teaching methods
Lesson planning
Curriculum design
Anatomy & injury prevention
Artistic development
Community outreach
Show production
Marketing
Tips creating a successful business in dance education
Optional Level testing / certification