Our Teachers
Carrie Konyha: Founder & and artistic director of White Lotus School of Bellydance, Carrie is a multi-award winning, world class middle eastern dance artist who has been a career dancer since 1986, performing mainly  within the Arabic communities throughout the United States . Her most recent instructional DVD "Tribaret Bellydance, techniques & combos for the versatile dancer (produced by World Dance New York) is currently being sold Globally with rave reviews.
Carrie teaches beginning through advanced technique & performance preparation classes in both the folkloric tribal and classical cabaret forms of middle eastern dance. She is the Artisic director for her 'White Lotus Bellydance" performance company who performs locally in sedona and at special events throughout Arizona. Carrie often travels to teach workshops and perform through out the nation. She has a special passion for dance education and has been writing a regularly featured column called "Tips for Teachers" in Zaghareet magazine for many years. She offers teacher training weekend intensives a few times a year. Check the events page for special workshops & events with Carrie.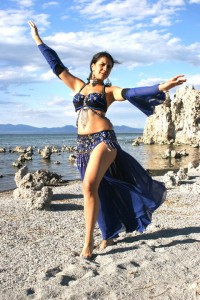 Aziza Maria: is a performer, teacher,choreographer and costume designer. She has dedicated years of study to the Art of Oriental Dance and recognized for the International Dance Academy teachers award.
Trained in Egypt under the finest teachers in Egyptian Cabaret, Aziza has been performing and teaching professionally for more than 10 years, showcasing her art in the U.S.A, Turkey, Arabia , Egypt and has had many opportunities performing live on stage with the Gypsy Kings.Her unique style is artistic and full of expression conveying the essence of Egyptian Belly dance.
Become acquainted with the Ancient Art of Egyptian Belly Dance (Raqs Sharqi) with Aziza Maria. Students will learn basic belly dance specific techniques to develop a solid foundation. Focus will be on proper posture, muscle and body isolation, foot patterns, drills, and fun combinations.Class will include an introduction to history, costuming, and basic rhythms.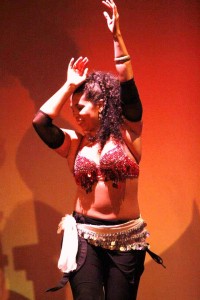 Rachel Ali Hollingsworth, White Lotus Bellydance company performer, Rachel has been taking bellydance classes at White Lotus studio for several years and teaches the Beginning Level I Tribal technique classes at White Lotus School of Bellydance.
She is a certified yoga instructor (MS RYT-500) who been studying and practicing yoga since 1998, teaching Hatha yoga since 2005 in both the US and abroad, and teaching Kundalini Yoga since 2009. Rachel earned her Master of Sciences degree in Exercise Physiology at Arizona State University in 1996, worked in the fitness industry for more than a decade, and began teaching physical education and health in colleges in 2002.
Today Rachel teaches several yoga classes a week, is a performer in the "White Lotus Bellydance" professional dance performance company & teaches the Monday beginners Tribal bellydance class at White Lotus school