Sedona Raqs
Sedona RAQS! Bellydance Intensive and Gals Show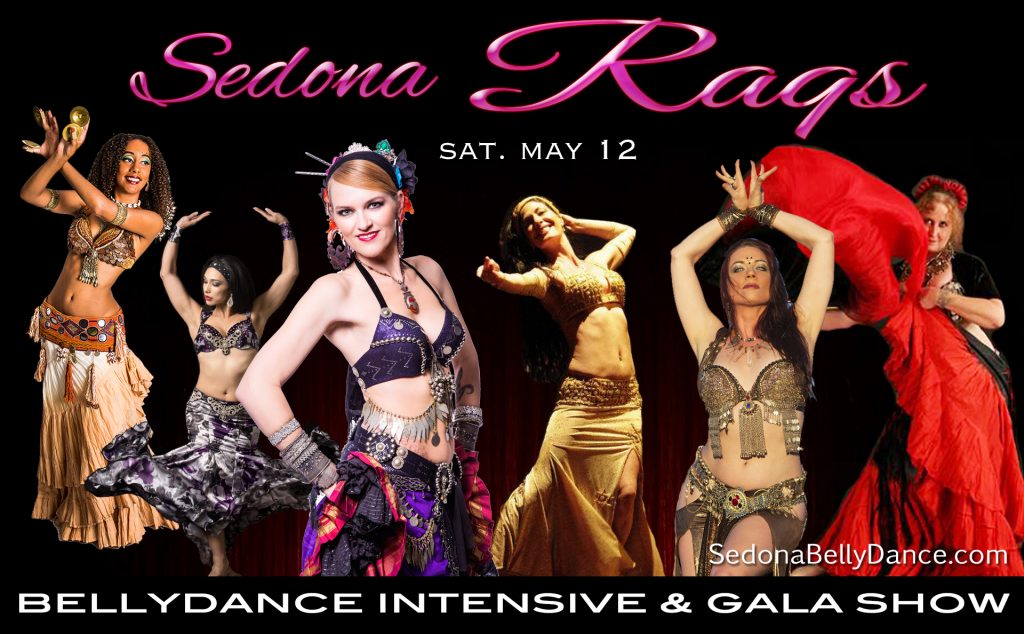 Workshops are $15 prepay or $20 at the door, space permitting
THE WORKSHOPS
Yoga for Bellydancers
Instructor: Carrie Konyha
9:00a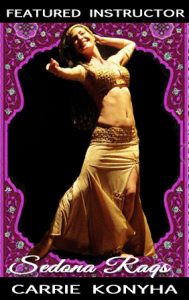 Warm into your day of intensive training with a yoga practice designed specifically to support you in becoming the best dancer you can be. In this 1 hr workshop, I'll guide you thru a complete flow of yogic practices that increase flexibility, develop core strength, improve balance, coordination, focus, presence & concentration. All things that lead to you maximizing your technique and artistry as a bellydancer.
Achieve deeper backbends, learn techniques for get lower into your splits, maximize your range of motion as you master fully embodied presence.  Learn a full system of yogic practices that bring your dance skills to a whole new level!

Bio: Im a  life long career dancer who has won multiple awards for performances, teaching and choreography. Dance is my passion and Yoga has been my number 1 'go-to' cross training practice throughout the entirety of my dance career. Its because of Yoga that I can do the splits, backbends, acrobatic floor work and have amazing balance, focus, concentration and stage presence. I will teach you practice to achieve these things too! Ive been practicing yoga formally since 1994 and have been teaching yoga since 2000. I am a certified yoga instructor, registered with Yoga Alliance and am a Yoga Alliance Continuing Education provider. Im super psyched to share my favorite yoga practices with you that have helped me maximize my own flexibility, core strength, performance endurance, range of motion, balance and my abilities in focus/concentration which has helped me tremendously in strengthening my performance skills.
---
Bodacious Combinations for All-Styles Bellydance Drum Solo
Instructor: Darshan
10:15a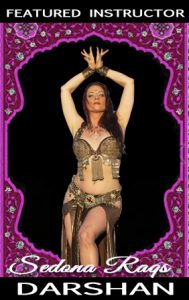 Rhythmic combinations in a fun and movement driven format. Accessible drills and fluid layers, useful whether you enjoy Raqs Sharqi, the Tribal styles, or fusion. Warmups and conditioning as well as staging concepts. Working in different musics to train, and culminating with smooth integration to a rich drum piece by Raquy and the Cavemen of Brooklyn, NY.
Bio: A dancer since always, Darshan started studying Middle Eastern Dance in 1991. Oriental, Tribal, global influences, theatrical methods: she has worked in myriad forms of the dance and beyond. She danced with tribal company Gypsy Caravan of Portland, OR for 9 years, Dalia Carella Dance Collective off Broadway NYC for 5 years, co-founded dance activism network PURE, and danced with a number of other  companies as well as teaching and performing nationally and internationally for many years. She continues studies in various styles of global and contemporary dance but bellydance is always home. Also a Chiropractic Physician, Bikram Yoga instructor, and Corrective Exercise Specialist, Darshan practices and teaches dance with respect and awe for the body.
8888888
88888888
---
Work that Zill
Instructor: Ustadza Azra
11:30a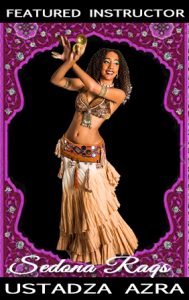 Let's drill our zills! Together we will work on strengthening your zill technique.  Take home new finger cymbal warm-ups, movement drills to enhance speed & coordination and learn how to playfully twist rhythms. 
Bio:  Ustadza Azra is the Director of the New Moon School of Bellydance based in Prescott, Arizona where she teaches American Tribal Style and Vintage bellydance. She is a big lover of all things zill as seen in her DVD Dynamic Zilling for Tribal and Cabaret Bellydance. 
**************************
88888888888
88888888888
---
Isolations and Layering
Instructor: Yasmina
12:45p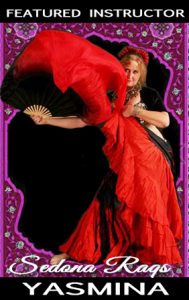 In this workshop we will work on isolations in both the upper body and hips before layering shimmy's on top and blending moves together.  Once we have the isolation and shimmy going we will layer on foot work, arms and head to take our layering from head to toe.  Workshop is open to all level of dancers
Bio: Yasmina has been teaching belly dancing since 1989 in the Phoenix area; she currently teaches both cabaret and tribal classes at the Mesa Arts Center. She teaches workshops in and around the State of Arizona, the Southwest and was honored to be one of the instructors at the Las Vegas Bellydance Intensive in 2012. In July 2011 she won Headliner of the Year at Wiggles of the West Dance Competition in Las Vegas. Yasmina won Arizona Favorite Tribal Solo Artist 2013 and Arizona's Lifetime Achievement 2013. 
Her labor of love website,www.joyofbellydancing.com is known worldwide. Yasmina's TV show "Joy of Belly Dancing" lasted 13 years in the Valley of the Sun from 1990 – 2003. The show was instructional and performance with spotlighting dancers and musicians from all over the US. From the show Yasmina produced 5 videos for the market all performance videos.
After her first belly dance class she was hooked on this beautiful art form and hasn't stopped learning and dancing. Her style of dance is American with tribal fused in. American style is a fusion of many styles of belly dancing in itself and with tribal added in it creates a unique blend.
---
Walk Sassy and carry a big stick
Instructor: Cari Smith / Anaya Tribal
2:00p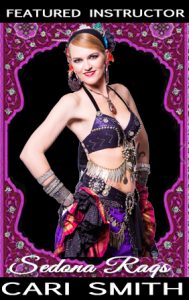 Anaya Tribal gives you a chance to tap into your soft side with cued improv cane combinations. Sassy, fun and so unexpected from an improv tribal company. Great to add into traditional and Renaissance fair performances!
Bring a cane, simple dowel rod or we have some you can borrow.
Bio:  Cari Smith , a costume design major,  found her passion for belly dance in her early teens. Years later the stars aligned and in 2003 Anaya Tribal was born. Anaya Tribal performs their own signature style of Improvisational Tribal Fusion Bellydance (ITS) incorporating prop work into their dynamic performances such as swords, fire tray, tribal skirt and anything else they can get their hands on.  After years of cabaret training,  Cari found tribal belly dance with Domba! and trained under Heidi Alexander in Domba! style tribal, FatChance videos and influenced by Zafira and Jill Parker and all the wonderful dancers of the world, Anaya Tribal has been performing their unique blend incorporating both their cabaret and tribal backgrounds to create our take on Tribal Bellydance which we like to call "Anaya Style". 
88888888888
---
Do you have what it takes?
Instructor: Samantha Karim
3:15p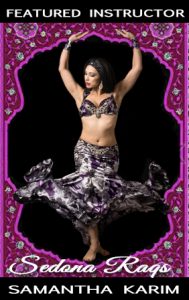 Do you have the X-factor?  In this workshop we will be working on stage presence and what it means to bring "it."  Your performances can make a statement and each time you are on the stage, it's time to speak.  Learn the mindset and body applications that will take your audience beyond a "good" performance to a powerful one.  Beginning to Advanced levels welcome as well as any style of belly dance.
Bio: It's time to embrace your potential and put everything into your dance.  Samantha Karim is known for her compassionate yet disciplined teaching style.  Her emphasis on practicing effectively and dancing full out has garnered her an international and local following.  Reach out to her for some coffee, food, or cocktails (preferably all three) by visiting TheInnerDancer.com or by following her on Facebook.
888888888888
---
WORKSHOP REGISTRATION
Sedona RAQS: GALA Show
Relics Restaurant
7-9pm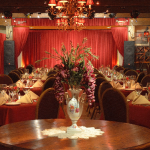 Showcase performances by workshop instructors and many of Arizonas top Bellydancers!
Tickets $15 at the door or $10 with Entree
(TICKETS AT THE DOOR ARE CASH ONLY)
3235 West Highway 89A Sedona, Arizona 86336
Call (928) 282-1593 for Dinner reservations
Where to Stay?
The Sedona Real Inn and Suites is right next door to the festival venue
Many other hotels with close, easy proximity. as well. 
check airbnb too
We do have Uber here