Sedona Raqs Festival
Featuring a day of Workshops, Shopping and a very special Evening Showcase show!

Workshop preregistration is now closed. Come and pay at the door. $20 each.
Dynamic Drum Solo 
Instructor Tierza Jacobs
10:00am

Workshop Description: The drum solo can be the most celebrated part of any dance routine. In this workshop Tierza offers a series of drum solo combinations and puts them to music. In creating a detailed breakdown of every pop lock and shimmy, she will easily guide you into a new skill level. See you there
Tierza Jacobs: Beginning with gymnastics and moving fully into dance and music by age 16, she excelled in Modern, Jazz, Abstract and Afro-Caribbean dance in high school. In her early 20's she danced with the music group "The Daddy's" and deepened her skill in improvisational hip hop touring to various cities on the west coast. At 23 she began to dabble into belly dancing attending American Cabaret style classes as well as Tribal Belly dance with Paulette D'Reese of Gypsy Caravan. This became the foundation to what would later become Vajra Dhara Dance and Tierza's own unique style of performance. Since then Tierza has done various theatrical performances including Celtic gypsy dance (with Dublin Soul), snake and fire dance (hand torches). In the last 6 years she has re-focused once more on belly dance and Tribal Belly dance fusion. This has created her own unique flair for a once ancient art form that she calls "Modern Dakini Dance. "   This form combines Tribal fusion belly dance with East Indian standing asana, Tibetan mudras and facial gestures that bring the deity alive. She manages a Tribal Fusion troupe, Vajra Dhara Dance and presently teaches out of her home studio Vajra Mountain Studios in Sedona AZ.
---
Bellydance-Latin Fusion 
with Annette Morrison
11:15a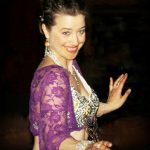 Workshop Description:
Who's ready for some Bellydance – Latin fusion? In Annette's workshop, she'll be sharing a few short combinations of sassy Latin dance footwork layered with powerful Bellydance isolations. You'll learn basic Salsa and Cha Cha steps and how they blend so beautifully with Bellydance movement. Caliente!
About Annette: Originally trained in Raks Sharqi, Annette has enjoyed building on this foundation by incorporating many different dance styles into her art form. Finding inspiration in a variety of world music, Annette blends many styles of dance, most recently Latin dance, creating a fusion of creative movement and personal expression. Over the years she has honed her technique, developing powerful muscle control and a unique style of her own.  She performs around Arizona and Colorado and will be starting up another session of  Bellydance – Latin fusion classes this summer.
When Annette takes the stage or enters a classroom of dance students, her joy and passion for music and movement is obvious. She is joy in motion!
---
Rhythm Queen
with Carrie Konyha
12:30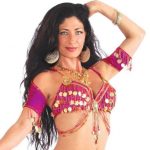 Workshop Description:
The drum is the heartbeat of our dance and dancing in alignment with the language of the drum is a crucial element to presenting fantastic performances. In this workshop you will learn, drill  & develop skills in classical oriental style technique for dancing to the various sounds of the drums as well as a variety of  dance steps and dance combinations for specific drum rhythms including 2/4, 4/4 & 8/4 timings.  Discover how to create dynamic drum rhythm dance combos of your own.  This workshop offers paramount instruction that all styles of bellydancers will tremendously benefit from.
About Carrie:
Multi-award winning, international bellydance artist Carrie Konyha is a life long career dancer who has been specialising in performing middle eastern dance for 20 years. She has been traveling to the middle east since 2008, learning the dance at the source of the cultures it originates in. She has performed in Dubai United Arab Emirates, in Cairo Egypt and has performed with many famous Middle eastern musicians and bands. Carries is passionate about preserving the traditions  of classical bellydance and supporting the evolution of it. Carrie is the producer of the Sedona Raqs Bellydance Festival and the owner of Lotus Studio in Sedona, Arizona.

---
Fancy Floorwork 
with Samantha Karim
1:45p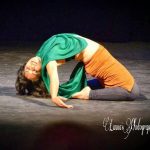 Workshop description: Fancy Floorwork
In this workshop you'll get some creative, fun, and safe ways to do amazing floorwork! We will go over technique and combinations that you can take home and use right away.  Bring knee pads and shoes if you have them.  This is taught as a multi-level class so whether you're just beginning or a professional, you'll definitely get something out it.
About Samantha:
Passionate. Evocative. Fun.  Known for her passion and musicality, Samantha's energetic performances leave her audiences inspired and touched. Her ability to dance with 'reckless abandonment' evokes a personal response within others, which encourages them to do the same.

She has taken dance education in ballet, modern, salsa, free-style, and belly dance. Samantha has harnessed the art of fusion dance yet recognizes the importance and beauty of traditional performances.
A sought after instructor, Samantha's enthusiasm and refreshing teaching method have become one-of-a-kind. Her focus is to assist in each person's full discovery of themselves and to not only inspire, but also challenge them to "let their dancer out".
Samantha is Belly Dancer of the Universe 2016 Egyptian Champion and Fusion People's Choice.  She also won USA Belly Dance Queen Pro-Soloist 2013, and was nominated Arizona's Favorite Cabaret/Oriental Artist in 2012.
---
Tribal-Indian Fusion Dance combos
with Divine Chaos
3:00p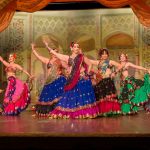 Tribal-Indian Fusion workshop
Divine Chaos has created an ITS (Improvisational Tribal Style bellydance – a cue and follow dance system) vocabulary of Indian Fusion combinations. These combos combine Indian classical, semi-classical, folkloric and bollywood moves with DC's own signature sassy style. From the graceful fluidity of the classical forms to the foot stomping fun of bhangra, the combos cover a variety of tempos allowing easy integration into most musical styles. In addition to the ITS combos, Divine Chaos has several bollywood choreographies of different lengths for groups that would like to learn a full performance piece.
About Divine Chaos
Divine Chaos Tribal® Fusion, LLC is well known for our colorful flaring skirts, high-energy performances, and our unique and innovative style.  Divine Chaos is a troupe of women from various backgrounds of life and dance, dedicated to working and playing hard, pushing boundaries, and sharing their love of Tribal Fusion belly dance with audiences around the world. Their unique and signature style of belly dance is a fusion of their favorite dance styles, from Hip-hop to Bollywood.
Divine Chaos Indian fusion and bollywood instructors have trained and continue to train in several styles of Indian dance including kathak, kuchipudi, bhangra and garba. This training allows them to bring their knowledge of the dance, costuming and culture to workshop attendees.
---
WORKSHOP REGISTRATION
Preregistration is now closed. Come and pay at the door. $20 per workshop. See you there!