Events Calendar
Level 2 Bellydance Technique 
Mondays | Nov 5 – Dec 17
Prerequisite: minimum of 16 weeks of bellydance basics or approval by instructor
5:45p-6:45p *not open to drop-ins
$77 | 7 week course (1x weekly)
*students taking multiple classes weekly can use their class card for an added discount.
T
ake your skills to the next level as you learn and practice Level 2 Bellydance techniques including 3/4 shimmies, basic layering, exploring dancing with tempo changes and various drum rhythms, learning how to dance with finger cymbals and silk veils! Use this Beyond Basics Mini Course to hone your skills in time for the Beginners Choreography on the schedule for Spring 2019 that students will have the option of performing in our annual Spring show this coming March (performing not required but offered for those interested)
---
Bellydance Basics for Beginners Course
Wednesdays | Nov 7-Dec 19
$77 | 6 week course (1x weekly)
5:45p – 6:45p  *not open to drop in's
*experienced students taking multiple classes weekly can use their class card
Congratulations on saying YES to your interest in Bellydance! Welcome to your new passion!  This is where your journey begins! In this 8 week course for beginners, students to learn and practice the fundamentals of Classical Bellydance moves, steps, spins and turns as you gain a deeper experience of the holistic benefits of this ancient dance art as a celebration of the feminine spirit. Originating in Egypt and known globally as the worlds most ancient, feminine dance, this dance is practiced and enjoyed by women all over the world for fun, creative self expression, recreation, holistic wellness and community . No previous dance experience necessary!  Start now and be on your way to performing in our Annual Spring Show this coming March, 2019 (performing not required but the option is here for those interested), This course is taught by world class, multi award winning bellydancer and the owner of Lotus Studio, Carrie Konyha.
---
Level # Bellydance Technique 'X-Factor Bellydance'
Wednesdays | Nov 7-Dec 19 NO CLASS THANKSGIVING WEEK
Prerequisite: testing out of level 2 bellydance or approval by instructor
7p-8p *open to drop-ins for advanced students only
$66 | 6 week course (1x weekly)
*students taking multiple classes weekly can use their class card for an added discount.
This specialty mini-course offers the missing element that you've been waiting for! This is the space where we finally bring it all together as we bring your hard earned bellydance skills to life with we drill practicable dance exercises designed to bring out your best emotive talents and artistic qualities as a dancer. New practices  each week that train you how to dance with authentic presence, emote the music with feeling and passion, sophisticated stage crafting and utilizing dance dynamics that set you and your dances apart from the rest. Taught by multi award winning bellydancer and owner of Lotus Studio, Carrie Konyha
---
Sugar and Spice Bellydance
Holistic Bellydance Fitness for the Body, Mind ,Soul
Thursdays | 5:45p
Ongoing, Open to Drop-ins
All Levels welcome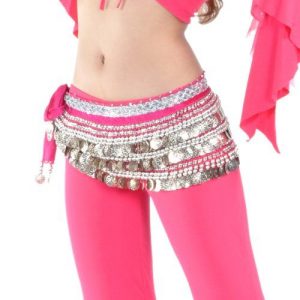 Get your Glisten & Glow on in this holistic bellydance fitness class for the mind|body|soul! 
Open to women of all ages and abilities
---
Stage Makeup for Bellydancers
with Sophia Ross
Sat Nov 17th
1:00p-3:00pm
$42 Advance | $50 Door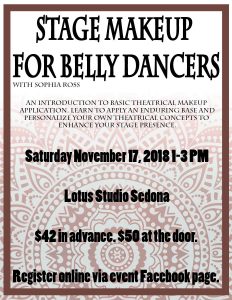 An introduction to basic theatrical makeup application for belly dancers. Learn to apply an enduring base and personalize your own theatrical concepts to enhance your stage presence.
• Availability of quality products
• Learn to apply long lasting foundation and finish
• Tips and tricks on shading and contouring to get the most out of stage lighting
• False eyelash application
• Demonstration of Arabic eye look on live model will be provided
$42 in advance. $50 at the door.
paypal.me/SophiaKRoss
---
Caravan Dreams
Theatrical Bellydance Show
Sat Dec 8th
Old Town Center for the Arts
Cottonwood, AZ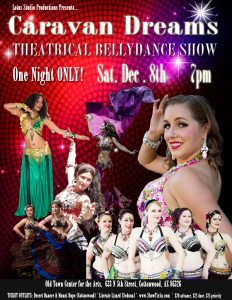 One Night Only! Experience an enchanting journey through the legendary dances of the ancient 'Silk Road'  in this spectacular theatrical dance show featuring 20+ of Arizona's most celebrated performers of Arabian dance.
Produced by Carrie Konyha. Purchase advance tickets at www.showtix4u.com.
Local Ticket outlets are Mount Hope and Desert Dancer in Cottonwood and at The Literate Lizard Bookstore in Sedona.
$20 Advance | $22 Door | $25 Priority.