I am available to teach any of the following workshops at YOUR event & location. Workshops can  range from 90 minute classes to full 4-6 hour programs and weekend intensives.
Currently scheduled workshops are also listed on the events page. Contact me for booking details.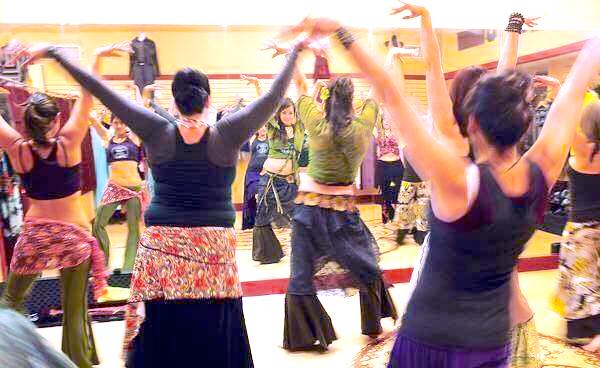 TECHNIQUE WORKSHOPS
Introduction to Bellydance! (1.5 hrs)
A super fun introductory bellydance workshop including a short informal performance and a brief history of bellydance. this workshop is great for any kind of womens gathering. 
Versatile Dance Combinations (2 hour workshop, daylong & weekend intensives)
Learn  unique & versatile dynamic dance combos created by Carrie that blend earthy folkloric aesthetic with the glamour of cabaret style creating a look that is earthy cabaret & elegantly folkloric all in one!   All combos presented are versatile and can be integrated into classical cabaret solo's,  tribal fusion &  synchronized group improvisational performances Also learn carries secrets for creating dazzling dance combos! Weekend intensives include training in improvisational dancing, Tribaret costuming and dance aesthetics. 
Rhythm based Dance Combinations (2 hours)
This workshop teaches dancers classical oriental style technique & a variety of  dance steps & combinations that go well with specific drum rhythms including 2/4, 4/4 & 8/4 timings.  Tune-up your technique  with rhythm based dance combo drills and learn tips for creating your own combos!
Artistry & Improvisation (2 hours)
Discover the secrets to performing dynamic improvisational dances full of presence & artistry that will keep your audience wanting more!  Together we decode the music & learn how to let the music guide your dance making (choreographed or improvisational). Learn to decipher musical phrases, various instrumentation and how to translate what you hear into dance movements & combinations that personify the music in a traditional bellydance format . Learn 'stage crafting' tips to expand your use of space & how to fill the stage with captivating presence using the power of dynamic staging & aesthetic principles including positioning, dynamic changes, dramatic poses, gestures & emotion.
Performing the Classic 5 part routine (3-4 hours, bring veil & zills)
Every cabaret bellydancer &  teacher should be schooled, skilled and have experience in performing the classic 5 part routine. This workshops offers just that! We delve into drilling entrances, learn how to recognize & dance to call & response sequences of music, zill playing, explore traveling & stage space utilization, taqsim, folkloric steps & the beladi progression, drum solo technique & dynamic exits.
Cymbal-ogy (1 hour)
Zills, Zills, Zills. For dancers wishing to enhance their finger cymbal skills. Learn to play a variety of different timings, rhythms and how to get different sounds out of your zills. Learn techniques for gracefully coordinating your finger cymbals with your dancing and for fluidly dancing with your zills.
Shimmy Queen (1.5 hours)
Workshops includes a breakdown of Egyptian shimmy, basic shimmies and a variety of 3/4 shimmies We'll break them down into practicable drills and focus on layering shimmies onto other movements including circles, slides, 8's , walks, turns and more. .
Beautiful Hands and Arms (1.5 hours)
Enhance the elegance of your dance with graceful, fluid arms movements. Learn to guide the gaze of your audience with your hands and arms and how to integrate arm movements into your dancing to bring more of a sense of completeness to your dance as you learn dance combinations that incorporate elegant hands, flowing arm patterns and nice 'framing' arm poses. 
Taqsim & Tarab (1.5 hrs)
When the music slows down, do you know how to perform mesmerizing dances that will keep your audience entranced?  The purpose of the Taqsim is to set an introspective, meditative mood & mystical atmosphere. This workshop Instructs dancers in  sensuous, snaky torso & hip movements combined with luscious vibrations & dynamic accents with instruction on interpreting & performing to various instrumental taqsims (oud, qanoun, accordian, violin) with FEELING.
Musicality for Belly Dancers (2-4 hrs)
A super informative music theory workshop for Bellydancers! Dancers learn to identify basic time signatures, count the beats in the music, discern musical phrasing, identify melody instruments & how to dance to them plus learning to recognize & diagram simple music forms for dance making purposes. This workshop will enable & inspire you to take your dancing and dance making skills to the next level! We will look classical, tribal & contemporary world fusion bellydance music to satisfy all facets of the dancer in you. this theme goes great with the artistry & improvisation workshop. I suggest having me teach both back to back for a full days intensive.
Thrillin Drilling (1 hour)
Designed with a dancer's goals in mind: long, lean, flexible and strong muscles make for clean isolations and fluid movement. This is a bellydance conditioning training designed to build strength, balance, flexibility, endurance and muscular control needed for professional quality bellydance performance. Includes a high level of repetition of  belly dance movement drills, Pilate's inspired core strengthening and yogic stretching. All in a non-stop hour of movement. A fun and effective workout class for everyone.
---
CHOREOGRAPHY WORKSHOPS
Classic or Modern Egyptian  Choreography (2-3 hours)
Learn a full Oriental style choreography (Classical or Modern Egyptian) as you also gain knoweledge regarding the priniples of dance making and how to create dynamic choreographies of your own. In this workshop Carrie breaks down all of the the hows & whys behind the choreography structure to teach students skills needed to enhance their own choreography skills. This workshop is a must for those interested in excelling in choreography.
Drum Solo technique & Choreography (2-3 hours)
Drum solos are a staple part of any full length belly dance show but dancers often find it difficult to understand how to dance most effectively to a drum solo. Learn traditional drum solo technique & a full drum solo choreographed by Carrie Konyha. Class includes information on how to choreograph your own routines and full length shows. Choreographed routines act as a valuable tool for dancers to learn how to combine movements and transition from one move to another. 2 hour workshop. See performance/events page for schedule of booked workshops.
Sword Dance (2 hours)
Teaches techniques for optimum sword balancing, sword maneuvers, tricks, floor work & a full sword dance choreography
Veil Dance (2 hours)
teaches & drills standard veil techniques and a full veil choreography. bring a veil.
---
BIZ OF BELLYDANCE WORKSHOPS
Teacher Training Intensives
I offer 3 levels of teacher training's which correlate to teaching beginning, intermediate and advanced courses. Each are weekend intensive formats. My teachers training intensives are designed to apply to teaching ALL styles of bellydance. The focus is on bellydance education & teaching methodologies rather then learning to teach a particular style.  My programs are well rounded & guide participants step by step thru the development of teaching skills & gaining knowledge that prepares one for successful career in  teaching bellydance. All students start at level one regardless of their teaching experience. More info here https://sedonabellydance.com/?page_id=1393
Standards & Ethics in Business Practices
Explores & discusses the the roles & responsibilities of professional dance performers & educators concerning the upholding of professional ethics & standards of business practices in our field.
Raising the Barre – keys to a successful career in dance education 
Explores & discusses key components to creating & growing a successful dance school. Topics including teaching standards & methods, lesson planning & curriculum design
Show Production 
Outlines key components & steps involved with producing a successful theatrical bellydance show from start to finish.
---
PERSONAL DEVELOPMENT WORKSHOPS

Bellydance Elements (intro workshops, daylong & weekend intensives)
Yoga/Bellydance Fitness Fusion! Experience the dance within! Explore the powerfully transformative qualities of the worlds most ancient and magical dance. This workshop leads participants thru a holistic movement/dance fitness flow combining bellydance basics with yogic practices. Cultivate dance artistry as you learn & practice the dances of Earth, Air, Fire, Water & Space .  Clear and energizing the chakra system with yogic-bellydance.  Wear comfortable clothing that allows freedom of movement.
---