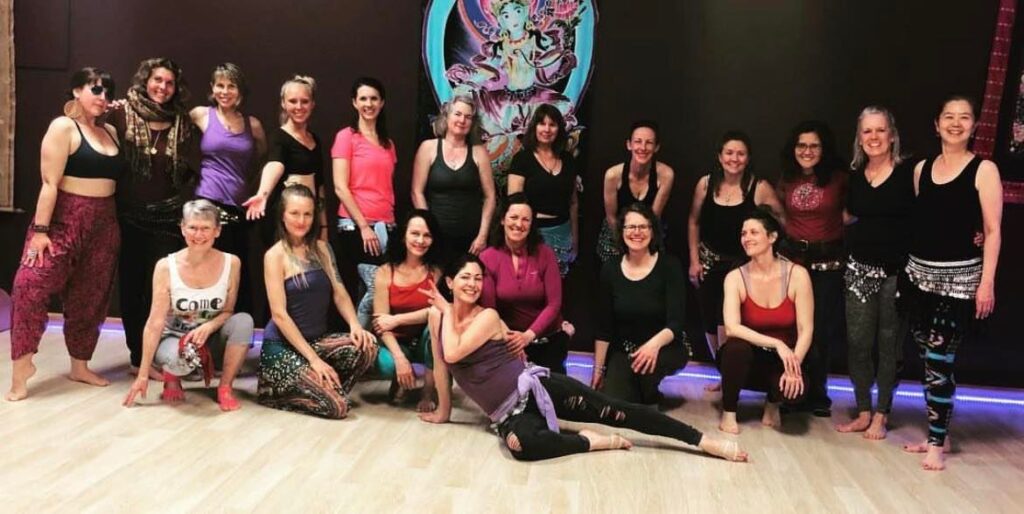 Welcome to Lotus School of Bellydance!
Heres some things that new students need to know as you are beginning your dance  journey with us.
What to wear to class?
Wear comfortable clothing that allows freedom of movement while also allowing the instructor to clearly see anatomical alignment & movement patterns. I recommend a form fitting shirt (tank top etc) and yoga or dance pants. No special shoes are needed. We typically dance in bare feet. Information on purchasing foot protection for those who it is available at the studio. No huge baggy t-shirts or skirts please.
What if I have no dance experience?
No worries! No previous dance experience is needed to start with the beginning level bellydance classes. New students are welcome to join any beginner level technique class within the first 3 weeks of an 8 week session. Technique & performance classes are taught progressively.  New students typically remain in beginners technique classes for at least a full year before advancing into a higher level class.  Class placement is as the discretion of the class instructor & school director. We offer technique, performance & fitness classes at beginning, intermediate, advanced and professional levels.
How much does it cost?
Our drop-in rate is $20 per class . Its more economical to purchase a class pass with your registration which offers discounted rates for students taking weekly classes consecutively. Please register responsibly. No refunds or credits are granted for unused classes on expired class passes. Class passes are not transferable &  may not be used for special events & workshops. Class passes are not effected by class cancellation due to holiday, teacher out of town etc. Students CAN use their class pass to make up classes missed due to absence by taking classes and the same or lower level during the current class pass time frame.
Is there an age limit?
We currently accept students from ages 12 and up. Most students at the school are adult women There is no maximum age limit. Dancing keeps you young and vibrant at any age! All bellydance classes are ladies only
How Many classes should I take?
According to the National Dance Education Standards, in order to truly gain proficiency in any form of dance, Beginning students should take class 1-3 times per week. Intermediate students should take class 2-5 times per week and students at the professional preparatory level should attend 5-6 classes weekly & practice daily. Your goals in dance are a factor in deciding what class flow is right for you. Dance hobbyists usually take between 1 and 3 classes weekly on average.
What classes are right for me?
1st year students are eligible for any beginning, beginning level 2 and open/mixed level classes like the Wed dance fitness flow class. . 2nd year students are eligible for any beginning/intermediate & intermediate class. 3rd year students are eligible for intermediate and advanced intermediate class. 4th year students are eligible for advanced intermediate & advanced classes. 5th year students are eligible for professional preparatory classes. All students regardless of previous experience start by taking a beginners class in their bellydance style of choice (cabaret or tribal) in order to be evaluated by the instructor & then placed in the proper class level.
Please see the Registration/Policy page for full Studio information.