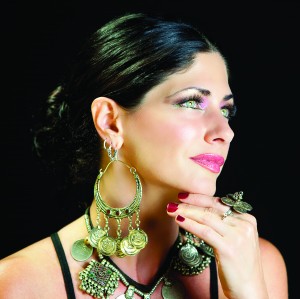 About Carrie: Coming from a family of musicians, artists & dancers (her grandfather was a Hungarian violinist & her grandmother was an acrobatic dancer for Ringling Brothers circus), music & dance is in Carrie Konyhas blood. Carrie is a multi-award winning lifelong career bellydancer, instructor, choreographer, show producer, writer & costume designer who  performs & teaches Nationwide.
Beginning with gymnastics & a passion for modern interpretive dance as a child, Carries lifelong passion for & professional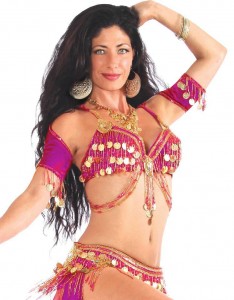 involvement with dance eventually led her to bellydance in 1994, which she has been fully immersed in ever since. Being deeply inspired by the feminine sensuality and timeless mystique of this dance, Carrie chose to shift her dance career to focus exclusively on bellydance almost immediately upon being introduced to it.
Carrie started her first student dance troupe in 1999 (now known as 'Gypsy Soul' dance company in Ohio) and has since gone on to co-create collaborative dance works such as 'Syren Dance Co." in Arizona (with Cari Smith and Tiffany Hamby of Anaya Tribal) & her newest student dance company "White Lotus Bellydance" in Sedona, AZ.
To date, Carries formal dance training includes more than 35 years of study in middle eastern dance including classical Egyptian Raqs Sharqi, Turkish Cabaret, a variety of Gypsy dance dialects (Turkish Rom, Ghawazee, Banjara), American Tribal Style bellydance & Folkloric dances of N. Africa. Carrie has additional training in the Indian classical dance, Bharata Natyam, Ballet, Modern dance, gymnastics & in  meditative dance practices. Her bellydance style has been greatly enriched by her experience in performing within the Arabic communities across the country and by working closely with middle eastern musicians. Carrie has been traveling to the middle east since 2008 to study middle eastern dance directly from the cultures it Originates. She has performed in Egypt and Dubai UAE. Carries dance repertoire includes traditional Egyptian Raqs Sharqi, Saidi, Ghawazee, Zar, Tunisian, Persian, Khaliji, Turkish Rom, ATS, Tribal Fusion, Single & Double Veil, Finger Cymbals, Acrobatic floorwork, Sword and fire props (candle, fire belt, fire sword, fire poi).
(Photo: Carrie with Raqia Hassan in Cairo Egypt, 2015)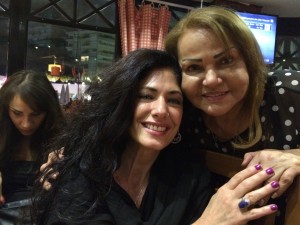 Known best for her authentic middle eastern dance style and for her versatile dance artistry, Carrie began her bellydance training in N. E. Ohio with Ygraine Silverling, Ann 'Zimra" Delekta, Isis (Valerie Myers),  Dhamia, Hakan Kaya,  Erigellis Kakias & Gita Brabakaran (Bharata Natyam). Since then Carrie has had the fortune of learning from & being inspired by many internationally renown bellydancers including, Raqia Hassan, Dina of Cairo, Sorraiah Zaied, Tamalyn Dallal, Aisha Ali, Eva Cernik, Jasmin Jahal, Suhaila Salimpour, Elisabeth "Artemis" Mourat, Jim Boz, Sohail Kaspar,  Sonia of Bellydance Superstars, the legendary Helena Vlahos, Dahlina & many others.
Carrie has performed with many internationally famous middle eastern musicians & bands such as Grammy nominated Souhail Kaspar,Naser Musa, George Lammam, Rachid Halihal, George Moussa, Charbel Eid, Enigma , Stigma, Turku, world fusion bands & musicians Rebbe Soul, Jazz Bedouins, Traveler, Greg Reiter , Anthony Mazzella, Eric Zang & Pop artists such as Jermaine Stewart with whom she was a featured dancer in the last music video he produced ("Set Me Free") before his passing away in 1997.
Carrie performs dozens of shows each year & enjoys performing classical Egyptian Raqs Sharqi bellydance to folkoric arabic dance, ATS / tribal & gypsy fusion, to the latest in contemporary, electronica, world-fusion styles of belly dance. When she is not traveling, Carrie can been seen performing regularly throughout Arizona.
Carrie is also a certified yoga instructor (RYT 200), is the creator of 5Elements Bellydance (a yogic-bellydance  practice), and  is a staff writer for  internationally distributed bellydance magazine "Zaghareet" . Her current projects include the production of a new series of  online bellydance classes  & study guides due to be released in 2019.
Directed by multi award winning, international bellydance artist Carrie Konyha, White Lotus School of Bellydance offers the most comprehensive, bellydance training  course curriculums in Arizona. We offer beginning thru advanced technique classes in addition to performance preparation classes for aspiring performers and  teacher training courses for professional dancers aspiring to teach middle eastern dance. We supplement our weekly class schedules with specialty weekend workshops and host performance events & workshops with world class bellydancers visiting from other communities and we offer our students performance opportunities thru our annual theatrical student showcase shows. Our professional performance team, White Lotus Bellydance performs frequently at Sedona community events and special events state wide. We are all about bellydance! read on for more info..